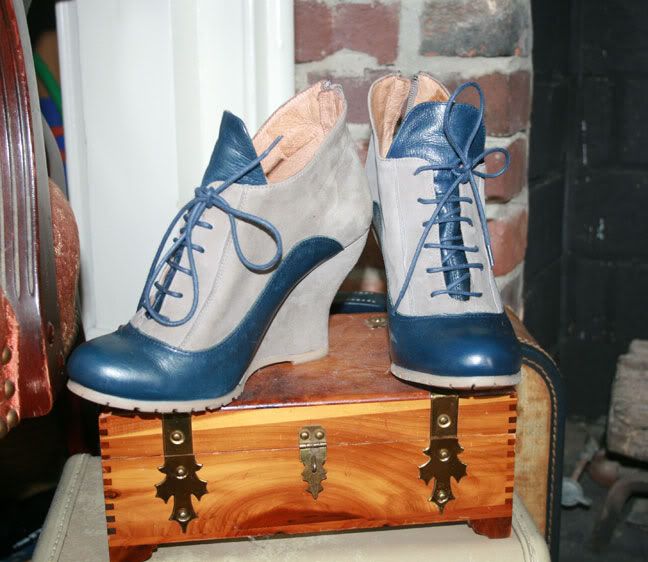 Some snapshots of the lovely leather and suede booties I bought from Anthropologie last week. I wore them to go and get coffee the other day with mustard knee high stockings!
Since it's been AGES since my last update, here is what has been going on in my life (in bullet form!)
* March was probably the busiest month I've had since last fall when I was preparing to graduate! I went on vacation with my family to San Francisco, went to SXSW with my friend Laura, and volunteered for Nashville's first Fashion Week! (Worked with Traver Rains, formerly of Heatherette....he taught me how to saran wrap a dress- like a turkey! More on that later..., was intimidated by Kelly Cutrone -she DOES know what she's doing when it comes to back of house, though! etc). I also met some amazing people, many of which I'm sure will become lifelong friends!
*Worked extensively on my spring collection, part of which is currently on the racks at Nashville's
Local Honey
(For photos of current Love Simone things click on my facebook page to the right!), and the other 8 looks will be shown at
Naked Without Us: Fashion & Music Festival
Friday May 13th at the Mercy Lounge in Nashville! I'm excited to be showing alongside one of the girls I worked with during fashion week, Amy Breen of
amy.b designs
!
*In between those time consuming/stress-inducing activities, I was incredibly ill with the flu for what seemed like an eternity, dyed my hair blue and green, and as you can see above...finally figured out how to make my blog photos a decent size!
I hope you all had a lovely Easter, mine was nearly perfect!